Emergencies
Medical and Safety Emergencies: Ambulance, Police, & Firefighter Assistance
In case of a medical, safety, or fire emergency, stay calm and dial one of the numbers below. These numbers are answered by an operator who will ask you to describe your emergency. The operator will send the appropriate assistance to you (ambulance, police, firefighter, etc.) as quickly as possible.
IF OFF-CAMPUS, call 9-1-1
IF ON-CAMPUS, call Campus Police at 801-585-COPS (2677)
Please note: You should not call 9-1-1 for situations that are not emergencies.
| 9-1-1 EMERGENCY EXAMPLES | NOT A 9-1-1 EMERGENCY |
| --- | --- |
| Car accident, criminal activity, suicidal/homicidal thoughts, sexual assault, violence, natural disasters (earthquake, flood, etc.), security threat, life-threatening injury or illness | Financial problems, scams, identity theft, culture shock, stress, conflicts with classmates or professors |
Emergency Resources:
The ISSS office is open Monday through Friday from 8:00 AM to 5:00 PM, and with the exception of holidays and University closure days. In the event of an immigration emergency, the ISSS office can be reached in person (4th floor of the Union Building, Room 410), by phone: 801-581-8876, or by email: international@utah.edu.
During extended holiday breaks (e.g., the Thanksgiving holiday and Christmas holiday), our staff ensures that the ISSS voice mailbox is checked regularly throughout the day, and regularly checks our main email inbox for emergency messages. If no one is available to answer your call during one of these extended breaks, please leave a voice mail message with your name, contact information, university ID (if applicable), and a description of your situation and an ISSS staff member will contact you as soon as possible.
If you are in danger, need emergency medical assistance, need to report a crime that is happening now or just happened, or to report a fire or accident, call 9-1-1 immediately.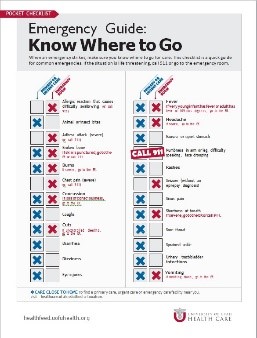 In the US, visits to the ER can be very expensive, and there may be times when it is more appropriate to visit Primary Care or Urgent Care rather than the ER for your medical situation. Click the image to the left for a useful checklist that can help you decide what kind of medical care may be best for you.
A good rule for when to visit the ER: "If you fear the situation is life-threatening or severe enough to cause permanent damage, go to the emergency room."
If you have a personal emergency you must attend to in your home country and need to depart the US quickly, please consider the following:
Contact ISSS as soon as possible to discuss your situation: In the event of an emergency, ISSS can be reached by phone: 801-581-8876, by email: international@utah.edu, or in person on the fourth floor of the Union Building, Room 410.
Travel Signature: If possible, receive a travel signature on your I-20 or DS-2019 at the ISSS office during business hours. If you have departed the US without a travel signature, please contact ISSS as soon as possible at

+1 801-581-8876

or international@utah.edu to discuss your situation.
Always contact ISSS before withdrawing from classes: Withdrawing from classes may affect your immigration status; it is important to schedule an appointment with an ISSS advisor to discuss your situation prior to withdrawing. If you do not plan to return to the US, please click here for more information about Authorized Early Withdrawal.
Discuss your situation with your academic department: If you have not informed your academic department and/or professors that you will be departing the US, it is important to contact them as soon as possible about your situation.
Documents to carry with you when you return to the US:

Passport valid for at least six months from date of re-entry
Valid U.S. visa stamp in your passport (if your visa in your passport is not valid, you will need to obtain a new one before you re-enter the United States)
Most recent form I-20 or DS-2019 with valid travel signature
Students on OPT or STEM OPT




All documents listed above, plus:

Students pending OPT or STEM OPT approval




All documents listed above, plus:

EAD card
An offer letter or other letter from your employer confirming your employment (if applicable)
Ensure your employment is updated in your SEVP Portal Account and appears on your most recent I-20

I-797 receipt (proof that USCIS received your submission)
Please speak with the ISSS office before traveling
PLEASE NOTE:If you travel outside of the United States after your I-20 Program End Date and have not applied for OPT, you will forfeit your OPT eligibility and will not be able to return to the United States in F-1 student status on your current program.
The University Counseling Center (UCC) offers crises counseling services 8:00 AM - 5:00 PM, Monday thru Friday. If you are a U of U student, staff or faculty member and need to talk with someone immediately, a UCC staff member is available to assist. Call UCC at 801-581-6826 or walk into the UCC office on the fourth floor of the Student Services Building, Room 426.
If UCC is closed: The University of Utah Health Care provides 24-hour assistance through the Crisis Line:801-587-3000. Licensed clinicians provide prompt and compassionate crisis intervention, suicide prevention, information, and referrals as well as follow-up services, emotional support, and assistance to individuals experiencing emotional distress or psychiatric crisis.
You may also use the SafeUT Crisis Text & Tip Line app to contact someone during a mental health emergency. This is a statewide service that provides real-time crisis intervention to youth through texting and a confidential tip program – right from your smartphone.
The SafeUT app can help anyone experiencing emotional crises, bullying, relationship problems, mental health, or suicide related issues. See the video below for more information about this app:
24/7 National Suicide Prevention Lifeline:1-800-273-TALK (8255)
International students and scholars at University of Utah and other universities across the U.S. have frequently been targets of a variety of scams using phone, email, social media, and other means. The scammer will identify themselves as a police officer, government official, or university official and threaten dismissal from the university, deportation from the U.S., arrest, or dropped classes unless you immediately pay money to the government or university. Payment demanded by the scammer is usually made via money order, wire transfer, gift cards or other difficult to track payment methods.
For more information about what to do if you receive a call you think may be a scam, please visit our scam information website.
For international students living on campus in the dorms or University apartments, safety information and resources for on-campus housing can be found at HRE's Safety, Security, and Support webpage.
Timely, accurate information is a valuable safety tool. Knowing what's happening and what to do during emergencies – like severe weather, an earthquake or a violent attack – can make all the difference in safeguarding personal safety.
The University of Utah's Campus Alert System is designed to reach everyone on campus in the best way possible during an emergency. Most alerts are sent via email, and are color-coded according to level of importance for quick identification. You can also receive text alerts on your cell phone.
Students, faculty and staff should register their cell phone numbers through the Campus Information System (CIS) to receive text message notification during serious emergencies. For more information, check these frequently asked questions.
An "emergency contact" is the person or people you would like to be contacted in the event of an emergency (e.g., an accident, severe injury, or illness). Your emergency contact could be in the US or abroad. This person should be someone who can be easily contacted.
To add or update your emergency contact, log into your Campus Information Services (CIS) account and click "Personal Bio/Demo Information", then the "Change Emergency Contacts" button.
Once you have updated this information in CIS, it is important to tell this person that they have been added as your Emergency Contact and talk to them about the responsibilities of being your Emergency Contact.
For more information about preparing for potential natural disasters (e.g., earthquakes) or other emergency situations, please visit the University of Utah Emergency Management website.
For more information about earthquake preparedness and the annual Great ShakeOut "Drop, Cover, and Hold" exercise at the U, click here.
As a student or scholar on an F-1 or J-1 visa, it is your responsibility to safely keep your I-20 or DS-2019 document, as this document states that you are authorized for studying or research in the United States. If you are travelling within the US, it is important to take your I-20 or DS-2019 with you and keep it safe.
If you have lost, misplaced, or damaged your I-20 or DS-2019, it is possible to replace it by following the procedure below. If you have any questions about returning to the US, please contact the ISSS office before you travel.
I am currently in the US:
If you are currently in the US and your I-20 or DS-2019 has been lost, misplaced, or damaged, you may request a reprinted document by submitting the "I-20 Reprint" E-form through UAtlas on our website. Your new I-20 or DS-2019 can be picked up at the ISSS office. Please allow two weeks for processing.
I'm currently outside the US, and I am travelling back soon:
If you have departed the US without your I-20 or DS-2019, or your I-20 or DS-2019 has been lost, misplaced, or damaged while outside the US, you may request a reprinted document by submitting the "I-20 Reprint" E-form through UAtlas on our website. In order to receive your new I-20 or DS-2019, you will need to arrange you document to be shipped using the E-Ship Global service.
I'm currently travelling to the US (at the airport):
If you are at the airport and realize that you have forgotten your I-20 or DS-2019 or you are travelling soon and do not have enough time to request a new I-20 or DS-2019 to be sent to you, you have two options: rearrange your travel plans to return at a later date (recommended), or attempt to travel without your I-20 or DS-2019.
If you arrive at the US Port of Entry without your I-20 or DS-2019: When you reach the POE in the US, tell the officer that you forgot your I-20 or DS-2019 and ask: "Can I please enter the US with an I-515?"
The "I-515" will allow temporary admittance into the US in F-1 or J-1 status. If you receive an I-515, please take your document to the ISSS office as soon as possible for assistance with completing the I-515 requirements. You must complete the I-515 requirements within 30 days of receiving it at the Port of Entry. Once you have completed the requirements of the I-515, you will be allowed to remain in the US as normal.
Please note: receiving the I-515 is at the discretion of the CBP Officer. The ISSS office cannot guarantee you will receive an I-515.
Additional recommended documents if you will not have your I-20 or DS-2019 at the Port of Entry:
University of Utah Acceptance Letter
SEVIS Fee Receipt
Printed I-94
Current university transcripts
University ID card
Print out of your schedule of classes you will be attending
NOTE: Under no circumstance should you re-enter the US in "tourist" status. Tourist status does not allow enrollment in courses or employment. Changing from tourist status back to F-1 or J-1 is time-consuming, expensive, and will likely require you to depart and reenter the US.
You should only request a reprint of your I-20 if it has been lost, misplaced, stolen, or damaged.
Please note: expedited processing for new/updated I-20s, including work authorization requests (such as OPT, STEM OPT, OPT Employment Update, CPT, etc.), is not an emergency.
We understand that your situation may be urgent; however, new/updated I-20 requests have a two-week processing timeline. The ISSS office does not expedite processing of these requests, and documents are processed in the order that they are received. Please carefully plan the timeline of your work authorization applications in order to ensure that your documents are received on time.
If you require expedited processing for a new or updated I-20 due to a family emergency, personal health emergency, or an urgent immigration emergency, please contact the ISSS office to discuss your situation with an ISSS advisor.