Meet the team

Director
Leadership

Associate Director,
Immigration & Policy

Associate Director,
J-1 Exchange
Open
International Student Experience & Operations Manager

Administrative Manager
Staff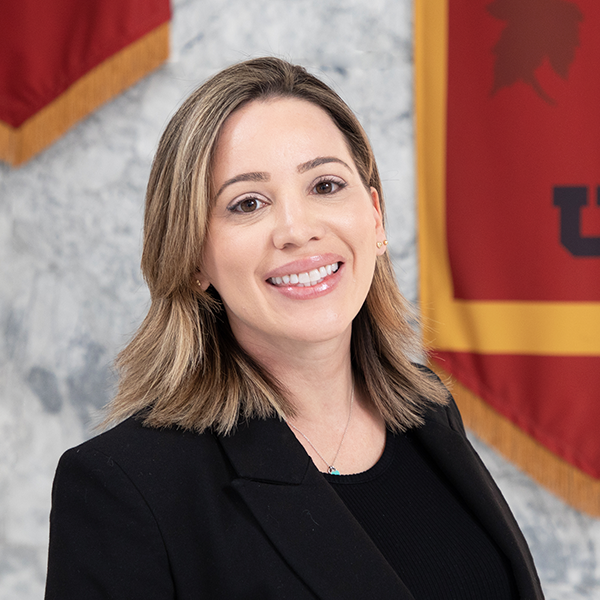 International Student Advisor

International Student Advisor

Orientation & Student Engagement Coordinator
Anastasia Fynn
Director
Anastasia Fynn is the Director for International Student & Scholar Office, where she is oversees overall compliance, student support services and engagement as it pertains to international students and scholars at the U campus. She has been in the International Education field for over 11 years now. In her current role, Anastasia is charged with providing strategic vision and leadership in managing ISSS; this includes ensuring immigration compliance, training and coaching, overseeing operations and workflow management, liaising with campus stakeholders and providing programmatic support and for International Students and Scholars. As an immigrant from Ghana herself, Anastasia has personal experiences as a foreign learner in the US and leverages this deep understanding of international student life and immigration policies to help facilitate student resettlement and transition procedures.
She is passionate about international student advocacy and has a strong believe in direct correlation between academic success and immigration compliance. She holds a BA in English and Political Science from the University of Ghana, an MBA in International Business from Strayer University. Anastasia believes in an interdependent world, where it is essential for students, faculty, and staff to have the opportunity to become personally and intellectually familiar with the people, ideas and customs of other nations. She enjoys cooking, reading, spending time with family and friends and is an avid fan of jeopardy!
TBA
Database Administrator
Cole Peterson
International Student Advisor
Cole was born and raised in Utah. He has been an international student advisor since April 2022. He studied international studies for his undergraduate degree and then taught Chinese as an adjunct professor at BYU Idaho. He enjoys the outdoors, reading, and studying language and culture.
Stephen Smith
Associate Director, J-1 Exchange Visitor Program, RO
Stephen is from Louisiana, and has lived in Utah for the last 9 years. He earned a Master's degree in Public Administration from LSU in 2013, is currently an Associate Director/Responsible Officer of the J-1 visa Exchnage Visitor Program, and has been in the field of International Education since 2009. When not working, he enjoys traveling abroad, scuba diving, skiing, and hiking, as well as introducing food from his home state to people in Utah.
Sylvia Christensen
Administrative Officer
Sylvia is originally from Sao Paulo, Brasil. She came to the United States as an international student and has been in Utah ever since. As the Administrative Manager, she oversees ISSS' operations and finances. She enjoys art museums, playing tennis and painting.
Aaron Mendez
International Student Advisor
Aaron is an experienced international educator working in the international higher education field. Aaron's first international student experience was in 2016 where he studied abroad in Osaka, Japan for an intensive language training program at the International Buddhist University (IBU), after that experience, his interest in the field has blossomed. Aaron holds two Bachelor's in Japanese and Asian Studies from the University of Utah and a Masters in International Education from the School for International Training Graduate Institute (SIT).
When he is not assisting or advising students at the U, Aaron enjoys being with his Shiba Inu, Nino, playing the violin, going out for delicious food, playing video games and more recently, being active in the outdoors - hiking, camping, and skiing.
Suchavadee Ampaichitt
International Student Advisor
Suchavadee is originally from Bangkok, Thailand. She came to the United States as an international student and graduated from the University of Utah. Her firsthand experiences as an international student brought her to her current role at ISSS as an International Student Advisor. She enjoys working at ISSS and helping pave a smooth path for international students while they study in the US and pursue their academic goals.
Tiffany Taghvaiee
International Student Advisor
Tiffany was born and raised in Salt Lake City, Utah and earned her Bachelor's degree in Computer Science at Westminster College. She is passionate about working with diverse student populations and underserved communities. As an International Student Advisor it is her priority to aid international students in their process of adjusting to their new home in the U.S. and ensuring they have the best experience possible during their time at the U. In her free time, she enjoys traveling, learning new languages, listening to music, and skateboarding.
Steven Burnett
J-1 Program Coordinator
Steven was born in California but was mostly raised in Utah. He has been in the field of international education for almost two decades and enjoys helping international students throughout their learning experience in the US. He has lived in Asia for just over 6 years and enjoys learning about other cultures and their histories and languages. He enjoys reading, good food, and spending time with his family.
Karen Silva
International Student Advisor
Karen is originally from Brazil and holds a bachelor's degree in law. Karen's passion for immigration laws and regulations has led her to work with international students since February of 2021. As a previous international student herself, she has a deep understanding of the challenges and opportunities that arise in pursuing a career in a new country.
When she's not busy working, Karen enjoys practicing yoga, participating in outdoor activities, and spending time with her family and dog.
Daniel DeBry
Orientation & Student Engagement Coordinator
Daniel was born and raised in Utah. During his childhood, he regularly spent time in Thailand with his mother, visiting the maternal side of his family. He attended the University of Utah and graduated in International Studies in 2020. During those years he spent summers backpacking around Europe and a study abroad in Oviedo, Spain in 2019. This had led him to be a very globally focused individual and he speaks 3 languages, though he wishes it was more. When he travels, he believes it's more fun to avoid looking up landmarks beforehand so one can get the sense of adventure and discovery of seeing it for the first time in person without expectations. In his free time, he loves basketball, video games, canoeing, and spending time with his husky, Appa.
Open
International Student Experience & Operations Manager
Alex Curtis
Associate Director, Immigration & Policy
Alex is the Associate Director for Immigration and Policy where he helps oversee immigration compliance while improving office procedures and processes. Alex was born and raised in Utah and graduated from Southern Utah University with a Bachelor of Arts in Spanish and a Minor in Global Studies. He has worked in international education for nearly 7.5 years as an ESL instructor and then as an International Student Advisor. Alex is very passionate about creating an amazing, welcoming, and memorable experience for international students during their studies in the United States. International students bring with them such a unique perspective to campus and the classroom which should not be overlooked. In his spare time, Alex enjoys reading, traveling, listening to music, and spending time with friends and family
Student Peer Advisors
Bruno Pascotto
Bruno was born in Brazil and came to Utah to pursue a bachelor's degree in computer science. He currently works at the ISSS Office as a Peer Advisor, helping students with their problems and concerns with immigration. When not at work, Bruno enjoys coding, reading, listening to music and sometimes skiing.His favorite moment at the U was during the first week of classes, going to classes for the first time and meeting the professors and students he would get to know better through the semester.
Debbie Adebunmi
Debbie is an international student peer advisor. She is from Lagos, Nigeria and she is a graduate student currently pursuing Healthcare Administration. Debbie enjoys working at ISSS, helping and guiding international students as they understand and navigate the new terrains at the University of Utah. Outside of school and work, Debbie can be found in Zumba classes, spending time with her family and being a soccer mom to her three amazing boys.My favorite moment at the U was the International Student Orientation Day; seeing different cultural backgrounds, languages and generally the diversity that exists at the U; it was fascinating to see!
Mo Tao
Mo is an Assistant Advisor on the J Scholar Program team. She is enthusiastic about guiding and supporting you throughout the J-1 Visa application process.
Tiana Ko

Tiana is a peer assistant at the ISSS Office. She is majoring in communication and urban ecology. She is from Seoul, South Korea. Her favorites are vanilla lattes and Reese's chocolate. Beyond her academic pursuits, she is also interested in the fine arts, and her favorite artwork is "The Kiss", the timeless masterpiece by Gustav Klimt.
Nahyun Kim
Nahyun is an international student peer advisor. She is from South Korea and a freshman; currently studying psychology. She enjoys working at ISSS and helping international students. Outside of school and work, she will rarely be found outside as she will be home either on her phone, sleeping, or doing homework.
Nicky Vyfvinkel
Nicky is a peer advisor at the ISSS Office. She is from Sandy, Utah and is working towards a Bachelor's Degree in Strategic Communication. She enjoys working at the ISSS Office and getting to work with international students. When not working she can be found hanging out with her dog and family, and doing some sort of arts and crafts.
Shen Shen
Shen is an international student peer advisor. He is from mainland, China and he is a graduate student, currently studying econometrics. He enjoys working at ISSS and helping international students. Outside of school and work, he enjoys reading and films.
Stella Cho
Stella is a junior currently studying psychology, and she is from South Korea. She enjoys helping international students while working as an international student peer advisor. She likes traveling, cooking, discovering great food, and spending time with her family and friends. My favorite moment at the U is when I met the awesome advisors and peer advisors at the ISSS Office.
Jingjing Li
Jingjing Li is a Peer Assistant in the ISSS office. She is a Chinese student majoring in Elementary Education. She enjoys music, sports, and adventure. She is always ready to help others and embrace new experiences in life.
Mwendi Heri Kavila
I was born in Sandy, Utah and I am planning on majoring in Business Management while minoring in Econ. I enjoy working with international students, as well as watching basketball and soccer. I also enjoy spending time with my friends and family. I love to go on adventures with my friends and road trips with my family. I also love music and going to concerts all across the country!