iStart name changing to UAtlas
Exciting things are happening at International Student & Scholar Services! Beginning April 30, 2020, our iStart system is getting a new design and name. Your login portal, which is currently know as "iStart" will be changing its name to "UAtlas".
What is an "atlas"? An atlas is a book of maps showing directions. This is exactly what we hope our login system is to you: a map, or guide, of ISSS resources which help you navigate your immigration record while you are here as a student!
So what exactly is changing?
We will no longer refer to iStart as the location for where you can upload your E-forms, but instead direct you to our UAtlas login system.
You will begin to see our UAtlas logo appearing on our website, forms, and social media. This logo is a quick visual that will help you identify when and where you should be accessing our login system.
Our login page has also undergone a makeover, simplifying the page to include one clear login button in red under the section "Current Students, Faculty, or Staff":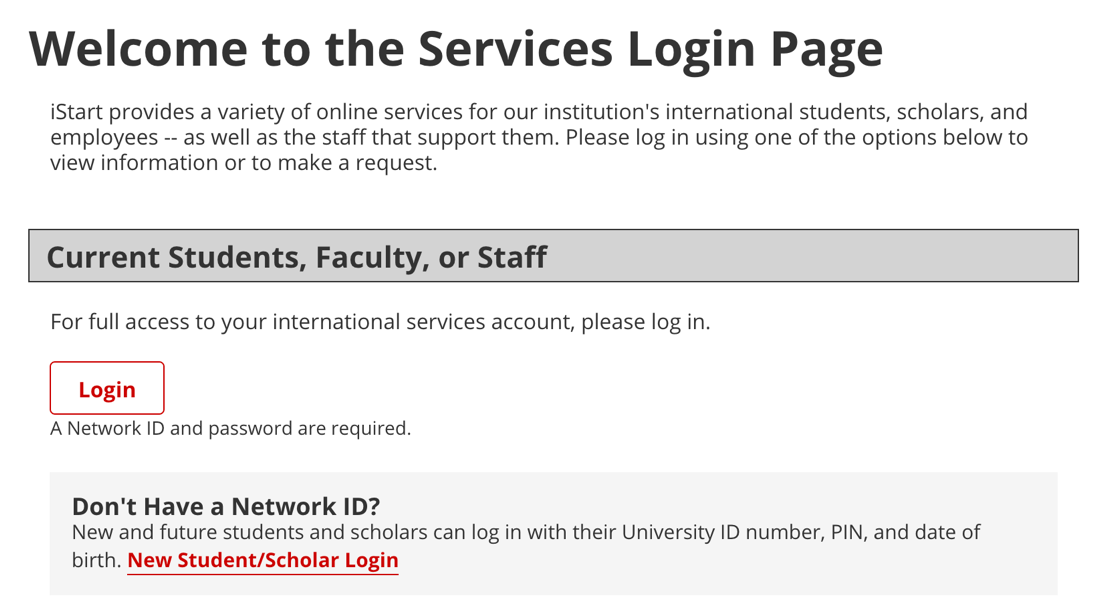 Our goal at ISSS is to make our services easy to access and navigate for all of you. We hope these changes are helpful in assisting you with getting the resources you need!
For further questions, please refer to our Frequently Asked Questions below, or contact us at international@utah.edu.
UAtlas: Frequently Asked Questions
You can access your UAtlas portal through our website at isss.utah.edu. On our home page, you will click on the red button at the top-left of the page titled "UATLAS LOGIN" where it previously said "ISTART LOGIN".
Once you click on the link, you will be directed to the main login page. Please click on the red "Login: button and enter your UNID (uXXXXXXX) and password. This is the same login information you use for your CIS login.
To access your E-forms, on the left-hand panel, select the category of form you would like to submit (i.e. F-1 Student Services). Once you click on this, all of the forms available for you to submit will appear and you can click on and submit the request of your choosing.
Check out the video below for a detailed tutorial:
In your UAtlas portal, you have access to E-forms, as well as notifications and the status of your E-forms located on your home page.
Yes. While the content of the E-forms will remain the same, the format of the E-forms will look slightly different. Please make sure to read through all of the information on the E-form before submitting.
Currently, the UAtlas system is only for F-1 students and J-1 students & scholars at the University of Utah.
Because this login system is only available to students at this time, there is little to no change for departments, other than the knowledge that our login system name has changed. Departments will still receive emails for requests that require them to submit additional information. These emails are still specific to each request and will have a newly generated password for each request, so please be reminded that advisors should not save passwords.
At this time, the changes as outlined are the only changes being made, however, stay tuned for additional updates and upgrades to UAtlas features!
If you have general questions, please contact ISSS at
international@utah.edu
, or 801-581-8876. If you are experiencing technical difficulties with submitting an E-form or logging into the UAtlas system, please contact
tech_issues@ic.utah.edu
.