2014 Scholarship Recipients
Florian Nattero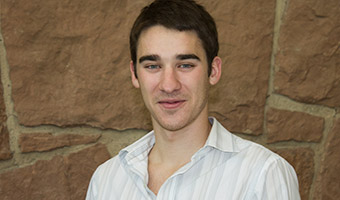 Being in the College of Social and Behavioral Science (CSBS), Florian serves as the Chair for the Psychology Student Advisory Committee (PSAC) where students participate in retention, promotion, and tenure reviews, organize events providing relevant academic and career information to the undergraduate population. Within PSAC, Florian has transformed into a leader—once being a member, then secretary, moved into the position of vice chair, and is now the chair. His leadership roles do not end there though, despite Florian's shy personality, he serves as the Vice President for Phi Kappa Phi, Vice President of the International Honor Society in Psychology, a tutor for student athletes who in help in math, psychology, sociology, and family studies, was an Ambassador and iMentor for the ISSS services, an Ambassador for CSBS, and a peer advisor for the Psychology Advising Center. Currently, Florian is in the Honors College working on his interdisciplinary honors thesis in Psychology and Communication Sciences and Disorders Departments. He is also working on two certificates—the Applied Positive Psychology certificate and Substance Use Disorder Treatment certificate. Along with his extensive work within the psychology department, Florian is a double major in Human Development and Family Studies (HDFS).
Zhirong Wang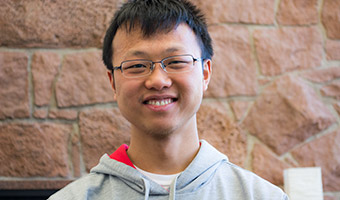 "If you're not making mistakes, you're not challenging yourself." Zhirong Wang has lived by these words. If he had a message for students, he states, "It's not like people are perfect. Everyone has been through failures and hard times but we shouldn't be afraid to make mistakes. We all make mistakes. Don't get discourage." Zhirong acknowledges the negative experiences he's encountered but is also humbled and feels fortunate with every experience he has had. Wang transfer to the University of Utah from China majoring in Biology. He has found the faculty within the Biology department to be very supportive and welcoming which is perfect, considering that at times, Zhirong feels like he lives in the biology lab. Current, he is working as a student research assistant neurobiology lab and has held that position for two years.
Tram Hoang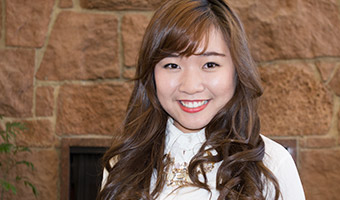 "The worst thing that can happen when you try is not getting it, but what's even worst is not trying at all." The whole idea behind the saying, "You miss 100% of the shots you don't take" has motivated her to keep trying new things. She is enthusiastic and has a positive outlook with every chance she takes. Since Tram was in high school, she has been intrigued about learning of new cultures and other people's experiences. When she was a sophomore in high school, she started thinking about how it would be to study abroad. The next year, she joined a study aboard program that gave her the opportunity to move to Arkansas. With her father as an accountant and her mother, a professor at a university, Tram's support system has always encouraged her to follow her dream. Despite it being Tram's second year at the University of Utah, she has already established Upper Division at the David Eccles School of Business. At first, Tram wanted to major in Finance, but after taking Marci Butterfield's accounting class, she decided accounting is what she wants her area of focus to be. Currently, she is a member of Beta Alpha Psi, Epsilon Xi. Although it sounds like a sorority, it is actually a club for accounting students that is dedicated to providing opportunities and promoting events that will help their members find and hold successful and meaningful careers in the financial services industry. She has always been interested in learning more about how the economy affects the way we live and is thankful for the opportunities Beta Alpha Psi gives her to network with different companies and firms throughout the nation.
Tao Yu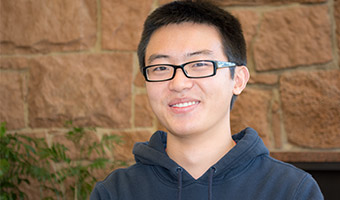 He is a double major, working on his Bachelors of Science in Economic and Mathematics, with an emphasis in Statistics. Along with that, he is also a double minor, studying Computer Science and Business. Many may think that he has too much on his plate, but despite his extensive studies, Tao has been on the Dean's List every semester he has attended U. He is currently a research assistant for the Department of Mathematics. His experience as a research assistant does not end there; in the past Tao was a research assistant for the Department of Economics. Tao also has received the Honor Roll Scholarship through The College of Social and Behavioral Science, the mathematics Department Scholarship, and is a member of Golden Key International Honor Society of Phi Kappa Phi. Outside of schoolwork, Tao enjoys the outdoors and loves going on adventures.
Yuji Chen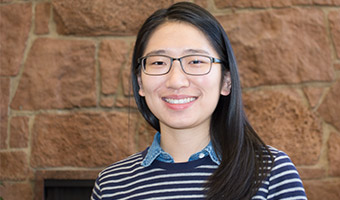 Yuji started volunteering her sophomore year and is now the Co-chair for Bennion Center Service Corps and is grateful for the opportunity to be a leader. She is passionate about serving and has found that it is through serving that helps her connect with others. One of her hopes is to create a collaboration between International Student and Scholar Services with the Bennion Center. She hopes to encourage more international students to volunteer and pursue other interesting activities. She start as a class tutor at Bryant Middle School and that opportunity has helped her develop leadership skills for her position as Co-chair. Yuji also enjoys surrounding herself in diverse groups and loves multiple cultures. Cuurently, all of her roommates are from difference countries and she loves to learn more about their backgrounds, languages, and food. She enjoys learning, hearing new perspectives and connecting with others.