Understanding your I-94 record
The I-94 record is a form issued by the Department of Homeland Security to all non-U.S. citizens when they are admitted to the United States. This record is used to verify the visa status that was given to a traveler upon entry.
Travelers can find their I-94 record online one day after entry into the United States at this website: https://i94.cbp.dhs.gov/
A sample I-94 looks like this: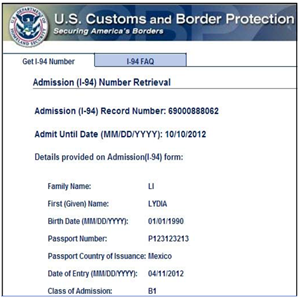 In addition to the admission date, the I-94 lists the class of admission (type of visa), and the date that the traveler is admitted until. For F-1 and J-1 visa holders, this date should be listed as "D/S", which stands for duration of status. This means that there is no specific expiration date for the visa status; students and scholars are allowed to remain in the United States until they have completed their course of study or exchange visitor program.
It is important to keep a copy of your I-94 document as proof of the visa status that you were admitted to when you entered the United States. This document may be required when applying for additional immigration benefits, such as Optional Practical Training (OPT) or change of status to another visa type.
Your I-94 document is also required to complete New Student Orientation (F-1 and J-1 students) and J-1 Scholar check-in.
If you are having trouble obtaining a copy of your I-94 or see an error in your record, please contact the ISSS office at international@utah.edu
Phone: 801-581-8876
Arrival, Reporting, and Orientation
Arrival and Reporting
After your arrival to the University of Utah, J-1 Exchange Visitors (EV) must report or "check-in" with International Student Scholars Services (ISSS) by completing the Report Your Arrival E-form using the UATLAS LOGIN portal also found at isss.utah.edu. EVs should refer to instructions provided with your ISSS welcome packet. Timely reporting is required for SEVIS validation and to receive an invitation to the Exchange Visitor orientation. If you have questions, please email Internationalscholars@utah.edu
You must report to the ISSS office as soon as possible upon arrival, but no later than 30 days of the begin date listed on your DS-2019. Failure to do so could result in an invalidation of your J-1 status. The following items are required for reporting to the ISSS office:

Copy of your DS-2019, with the signature from the US Consulate or Embassy
Copy of your

I-94 record

(Arrival/Departure document)
Copy of the visa page from your passport that includes the "D/S J-1 stamp"
Completed and signed Health Insurance Compliance Form
Current contact information – US phone number and physical residential in the U.S.
Orientation
Attendance at a scholar orientation is necessary to understand how to maintain your legal status and learn about the regulations of your Exchange Visitor Program.
Information about the services and resources provides by the International Student Scholars Services office, who the J-1 scholars advisors are, and how to contact them for an appointment
Health Insurance requirements
J-1 Exchange Visitor rules and regulations, including:

International travel
The 12 and 24-month bar
The Two Year Home Residency Requirement 212(e)
Restrictions on incidental employment and incidental study while here as an Exchange Visitor scholar
J-2 dependent employment options and application procedures

Things to do in Salt Lake City and the state of Utah
Recreational and cultural opportunities that are unique to anywhere in the world
Public transportation
Obtaining a Utah driver's license
Obtaining a Social Security card
U.S. banking information and options
Information on our Sprintax web page, our hub for all things taxes in the U.S.
And more!
The J-1 Exchange Visitor Orientation is held every Monday at 11:00 am (holidays excluded) in Building 124. Scholars will be invited to an orientation at the completion of the Report Your Arrival e-from through the uatlas LOGIN portal.